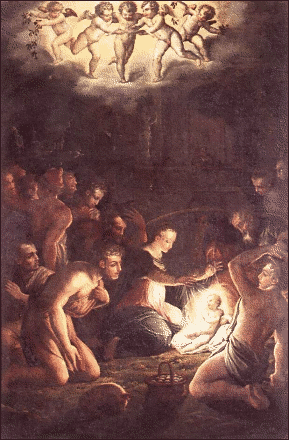 Giorgio Vasari
Christmas blessings from southern Idaho to all my fellow teachers and their families! I hope you have a little snow, or at least a poinsettia or some greenery to brighten up your home.
In my house, we don't a have a Christmas tree yet, but there's snow on the ground and it's ten below. We're cozy as can be with our wood fire and a few extra blankets. My daughter instigated cookie dough-making yesterday for baking and decorating today, and last night I sat down with the three kids to read some Christmas books. My five-year-old, being a bit bouncy, only sat still for
A Charlie Brown Christmas
, but my artist daughter enjoyed the second book, a
telling
of the Christmas story from the King James version of the Bible with illustrations from famous nativity paintings. Christianity Today offers a wonderful
roundup
of children's books to read aloud during the Christmas season.
I also showed the kids a couple of YouTube clips to teach them about the Mexican tradition of
Las Posadas
, a nativity celebration that commemorates Mary and Joseph's search for lodging in Bethlehem. Here's a great
sing-along
with the
Posada
song in Spanish and English. And the kids loved the "What's a Piñata?"
scene
from Disney's
The Three Caballeros
, which tells the
Posada
story sensitively to a typically antic Donald Duck.
It takes a bit of effort to find ways to teach our children about the Christ of Christmas, when the commercial and anti-religion culture of our day has us so entangled. A little thing like nativity scene cookie cutters or sending an inspirational
eCard
might seem futile against the tide of the World's cultural norms. But God is so good at taking small things and making them into great things.
I don't know why we watch TV. Now more than ever, commercials and programming proclaim the death of Christian morals. I've quit watching network television myself, but I happened to catch some last night when my husband was watching football. I had to leave the room. I've seen enough commercials this fall pushing the liberal agenda to know that TV is not for me. I applaud the Christians who remain in the entertainment industries, writing scripts, directing, acting, casting, and doing so many other jobs that have an influence on our culture in subtle and spectacular ways. God still has the power to use you for good in a dark world. But last night, I went to my room and opened my Bible in search of comfort after what I had seen. God led me to Psalm 139:11-12:
"If I say, 'Surely the darkness will overwhelm me, and the light around me will be night,' even the darkness is not dark to Thee, and the night is as bright as the day. Darkness and light are alike to Thee." (NASB)
It would be so easy to become depressed over the state of the world and the seeming futility of our efforts to raise our children to love God over video games and despite the messages all around that sin is good and self is god. This world is dark. Overwhelmingly so. But the Psalm says, "even the darkness is not dark to Thee." It's the same world to God, dark or light. He is no more distant from the Christian who calls on Him. As Psalm 145:18 says, "The LORD is near to all who call upon Him, To all who call upon Him in truth."
Let's call on Him in truth this Christmas season, since He is so near.
How do you teach your children
that Jesus is near to them at Christmas? What Christ-centered traditions do you keep? Please share with us by leaving a comment below.
Further reading
:
Herod--Alive and Well
Christmas Lights in My Classroom
Christian Teacher, Public School does not ask for your donations, but please consider clicking these links and shopping at our affiliates, Dayspring.com and Dover Publishing. Thank you for your readership and prayers as we enter 2017. Teachers need encouragement to shine as lights in a dark world!